See the difference a GuidedChoice Managed IRA can make for your business
Tax savings, including a potential $500 tax credit, and tax-deductible contributions

Portable, so an employee can take the account with them when they leave

Objective advice and professionally managed for effortless investing

Projects future wealth to help you make more informed decisions

Transparent fees and all-in low pricing so you and your employees know exactly what you're paying
Why a GuidedChoice Managed IRA?
Professionally managed. Highly affordable.
A SIMPLE, SEP, or Payroll Deduction Managed IRA from GuidedChoice will provide an easier and more affordable way to offer retirement benefits. We can easily integrate our service into your payroll system for automatic payroll deductions, or contributions can set up manually. And we'll always provide ERISA-level fiduciary advice, meaning we act solely in the best interest of the participants. This way, your employees can focus on growing your business, while we grow their future.
What you see is what you pay
With many other professional advice providers it can be difficult to estimate the fees. There's a management fee, an investment fee, custodial fee, and more. With GuidedChoice, our fees are totally transparent and our pricing is all-in, so you and your employees always know what you're paying and there are never any hidden costs or added employer fees.
See how much you'd pay annually at any account value:
---
$50 annual fee applies for account balances under $50,000, fee included in number above.
*$5.80 – $6.30 per every $1,000 in your account. Price varies depending on expense ratio fees.
Click here to get a full breakdown of our fees.
How it works
Our research shows a majority of investors prefer avoiding risk over seeking reward. That's why we employ a rigorous and proprietary methodology designed by Nobel Laureate, Dr. Harry Markowitz, to help participants reach their goals. In seeking funds, we balance low cost with how we expect the fund to perform. And the portfolios we offer range in risk and expense ratios to better fit the needs of your employees.
Learn More about our Methodology
A Personalized Plan
There is no one-size-fits-all IRA. That's why we give your employees the ability to customize their plan based on savings rate and date of withdrawal. From there, we'll provide a personalized, diversified investment portfolio designed to help reach their savings goals.
Automatic Rebalancing
Our digital intelligence continuously monitors the funds the employee is invested in and rebalances the account when necessary to keep you on track.
Projected Wealth
Your employees will better understand how small adjustments can create various outcomes, helping them make informed decisions while answering those difficult questions, like, "Should I save more?" and, "When can I really withdraw?"
Our Total Fee
Up To
$6.30*
per year
for every $1,000 in your account
$50 annual fee applies for account balances under $50,000.
*Price ranges between $5.80 – $6.30 depending on investment fund fees in your portfolo (i.e. expense ratio)
Getting Started
Whether you're a sole proprietor, a small business, or even a larger company seeking an alternative to traditional 401(k) plans, our Managed IRA is available at a highly affordable price, with no minimum opening balance requirement. With low effort, low investment of resources, and low cost for your business, getting started with a GuidedChoice Managed IRA is easy.
GuidedChoice also offers channel pricing to organizations that meet specific criteria. To learn more, please contact us.
Get Started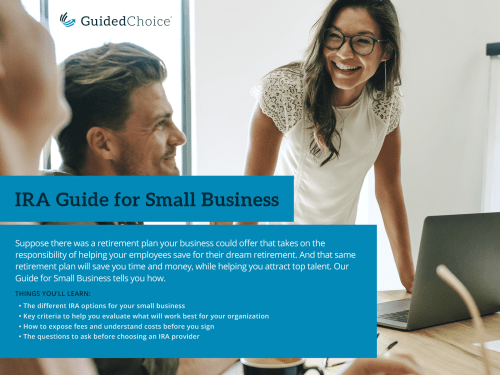 Get our buyers guide to find out.
There are a few types of IRAs, and each has its differences, benefits, and features. We'll help you better understand them so you can choose the one that's right for your business. This guide will help you know what questions to ask, show you how to expose hidden fees, and explain how unknown costs can impact your future.
Thinking about rolling over?
Rolling over is fast and easy. Just select your IRA type (Traditional, ROTH, or SEP), enter your information, and confirm. It's that simple.
Rollover Now
Are you paying too much in fees?
Compare how much your 401(k) or current IRA is costing you to a GuidedChoice Managed IRA. Use our fee calculator to see how much you can possibly save with us.
Compare Fees
Not sure which IRA is right for you?
Our objective Concierge Service will help you determine the type of IRA that will work best for you. Whether it's with us or not, we're here to help.
Schedule an Appointment
Want to know more about the funds we use?
If you are interested in learning more about the funds in our portfolio, how they are selected and the fees associated with each, download an overview here.
Download Now
FAQ
Is there someone I can talk to if I have questions or need help?

Of course you can. Give us a call at 877-310-4248.

Is your digital advisor service secure?

Our security team is always working ahead of industry guidelines to make sure your personal information is secure.
Read about it here.

What is the difference between the types of retirement plans for a small business?

What are the advantages of the SEP and SIMPLE IRAs?

What is ERISA-level fiduciary advice?

The investment advice we give is in compliance with the Employee Retirement Income Security Act.

I'm working with an Advisor, can I still use GuidedChoice?

GuidedChoice has supported and partnered with advisors for the past two decades. We are ready to partner with yours and support your business. Schedule an appointment to learn more.
For more help or to find answers to other questions, visit our support center